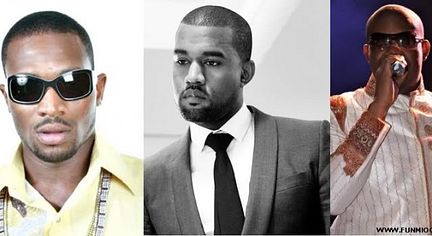 American multiple awards winning artist and producer, Kanye West has today finalized his interest to sign one of Nigeria's biggest hip-hop artistes, Dapo Oyebanjo popularly known as D'Banj & Don Jazzy to his Good Music Entertainment, a production, management and record label outfit. "GOOD" is an acronym for "Getting Out Our Dreams".
Speaking to D'Banj's manager, Sunday Are of List Entertainment, he confirmed that there have been talks recently but D'Banj officially signed the contract today. "Yes there have been discussions between the two parties lately. They have been exchanging contracts but now the wait is over, he said.
Sources also revealed that Kanye is interested in working with Don Jazzy. We heard he wants him to produce a song on the collaboration album he is working on with Jay Z.
John Legend and Common were the first to sign to the management and production company. Their albums "Get Lifted and Be" (both executive-produced by West) were both critically acclaimed and combined were nominated for 7 Grammy Award nominations. "Get Lifted" had three nominations and "Be" had four.
As if Mo-Hitts wasn't big enough already. They are setting trends, and that's just the fact.