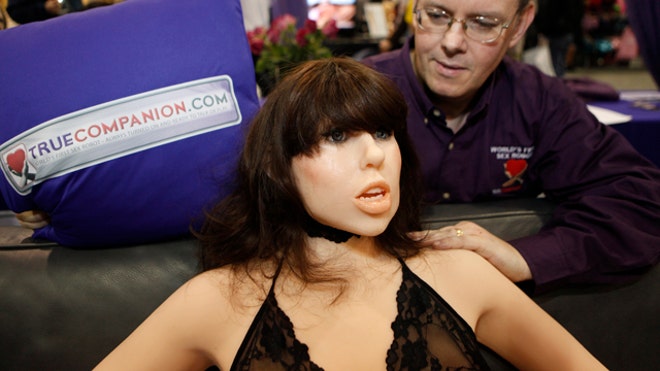 Nerds and geeks can breathe a sigh of relief: The world's first life-size robotic girlfriend is finally here.
Complete with artificial intelligence and flesh-like synthetic skin, ROXXXY the sex robot was introduced to the world at the AVN Adult Entertainment Expo in Las Vegas.
"She can't vacuum, she can't cook but she can do almost anything else if you know what I mean," Douglas Hines, the president of ROXXXY manufacturer TrueCompanion, told the AFP. "She's a companion. She has a personality. She hears you. She listens to you. She speaks. She feels your touch. She goes to sleep. We are trying to replicate a personality of a person."
The Roxxxy is 5 feet, 7 inches tall, 120lbs, and "has a full C cup and is ready for action," according to Mr Hines, who was an artificial intelligence engineer at Bell Labs before starting TrueCompanion.
The anatomically-correct robot has an articulated skeleton that can move like a person but can't walk or independently move its limbs. Robotic movement is built into "the three inputs" and a mechanical heart that powers a liquid cooling system.
TrueCompanion has been developing ROXXXY for nearly two decades, according the company's Web site. In 1993, Douglas Hines designed "Trudy," his first sex robot that the inventor admits was not as "user friendly" as the current model. It was during his work at Bell that Hines learned the latest artificial intelligence systems, which assisted him in the development of the robot.
The AVN Adult Entertainment Exposition takes place annually in Sin City, side-by-side with the Consumer Electronics Show. As technology fans convene on Las Vegas for the gadgetfest, they're also given the opportunity to visit AVN for a dose of the content that drives is often assumed to drive technology adoption.
Article Views: 428 share what you think