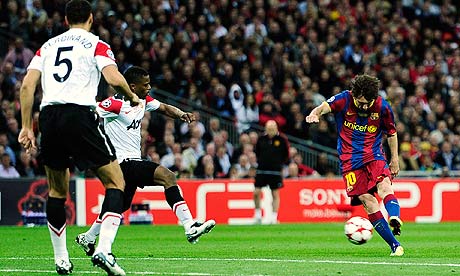 There was no repeat of 1968 Wembley euphoria for Manchester United in their bid to lift a fourth European Cup, just an unwelcome reminder of how it felt to be outplayed in 2009 in Rome. Once again United could not get enough of the ball to do themselves justice, once again their most experienced players were unable to impose themselves, and for a second time in three years Barcelona did almost exactly as they pleased.
It is supposed to be United who do what they want, or so their supporters have taken to singing, though few had the stomach for that particular ditty after seeing their side even more comprehensively taken apart than was the case two years ago. With Lionel Messi dazzling once again, United only had Wayne Rooney's aggression with which to counter some scintillating passing and movement, and only some erratic, almost casual finishing from the Spanish side prevented the score reflecting what a mismatch this really was. Barcelona could easily have been three goals to the good by half -time, and must have been in double figures for scoring opportunities in the second half by the time David Villa scored their third to kill off any faint United hopes of recovery.
Barcelona were unable to name quite their strongest team, with their influential captain, Carles Puyol, fit enough only for a place on the bench and Javier Mascherano having to continue as an emergency centre-half. The United line-up was the one everyone had guessed in advance, though Sir Alex Ferguson too sprang a surprise among the substitutes, with Michael Owen's selection nudging Dimitar Berbatov out of the squad.
United began like a team with a well-drilled plan, with Park Ji-sung quickly closing down Dani Alves and Wayne Rooney enjoying some success in the air against Mascherano. For almost 10 minutes Barcelona were penned in their own half, though not uncomfortably so.
The closest United came to an early breakthrough was a raking pass from Ryan Giggs that almost found Javier Hernández in space, but Gerard Piqué just got away with a risky interception.
Lionel Messi had been content in these early stages to alternate between positioning himself high up the pitch and dropping back into his own half in search of the ball, and United sensibly declined to get dragged out of position by following him. He did not remain isolated or idle for long, and by the midpoint of the first half Barcelona were building attacks in the familiar waves around the edge of United's penalty area, with Xavi, Andrés Iniesta and David Villa always involved but Messi never far from the ball or the point of danger. Rio Ferdinand was obliged to block a shot from Villa after Messi's pass created the opening,
Pedro Rodríguez missed the game's first clear opportunity in front of goal, Villa put a shot narrowly wide and Nemanja Vidic pulled off a superbly timed tackle to stop Messi in full flight in the area before the United fans at the end Barcelona were attacking had a chance to catch their breath.
When a Giggs mistake offered Messi a chance he was surprisingly slow to accept, allowing Ferdinand to dispossess him, Ferguson's furious reaction showed the strain United were under. A couple of minutes later, almost inevitably, the first goal arrived. Xavi ghosted across the edge of the United area, biding his time, keeping the defence guessing, until releasing Rodríguez on the right with a flick of the outside of his boot. United realised a fraction too late that here was an option they did not have covered, and Edwin van der Sar was beaten by a low shot into his bottom‑left corner.
What United had to do was find a better reaction than they managed in Rome two years ago, when their self-belief and organisation began to wilt as soon as Barcelona took the lead, and remarkably they found it within seven minutes. When Michael Carrick and Fábio da Silva won the ball following a Barcelona throw on the right Rooney set off on a determined diagonal run, exchanged passes with Giggs and hit a confident drive beyond Víctor Valdés as soon as he had a clear sight of goal.
Barcelona protested with some justification that Giggs was standing in an offside position, though he never touched the ball and was not in the goalkeeper's way. Encouraged as United were by the equaliser, they should still have been a goal down at the interval. Messi carved them open once more, yet somehow failed to apply the finishing touch when Villa declined to shoot and rolled the ball invitingly across the face of goal. It was a bit like Arsenal – over-elaboration in front of goal when a more direct approach might have paid off, but not so much like Arsenal that United could kid themselves their opponents would fall to pieces in the second half.
From the moment Mascherano began the second half with a buccaneering run from his own half into the United penalty area to the 54th minute shot from Messi that restored Barcelona's lead, United were hardly able to get a touch of the ball. Barcelona were not stroking it around in their own half, or moving sideways and backwards in the way they sometimes do. They were creating clear openings, and if anything wasting them through being over-ambitious. Alves had already hit a post and Patrice Evra cleared off his line before Messi claimed his first goal in England.
By that stage he could reasonably have had a hat-trick, but perhaps tired of over-complication, he settled for banging the ball past a possibly unsighted Van der Sar after Iniesta had found him on the edge of the area.
With the game being played at one end to an almost embarrassing degree, Barcelona were literally queuing up to take shots at Van der Sar before Villa scored. The goalkeeper made notable stops from Messi, then Xavi, then Iniesta, before Villa gave him no chance with an exquisite curler, after Nani had come on for Fábio and was immediately let down by his first touch. He probably should not reproach himself too much. Standing next to Messi, almost anyone in the world would look clumsy.